Archive for January, 2010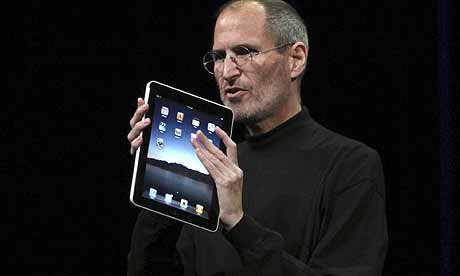 Apple CEO Steve Jobs excited consumers and technology analysts on Wednesday when he introduced the new Apple iPad Tablet at a conference.  He showcased the product with a demonstration while introducing most of the cool features and business points.
One of the major selling points of the iPad, described as a "combination between a phone and netbook", is that it will operate as a movie downloads book reader.  Seen as a potential major competitor for the Amazon Kindle, Apple intends to open its own digital downloads bookstore, to be called "iBooks".
Apple appears primed to delved more into the digital media downloads arena with the iPad Tablet.  Digital book downloads are a fast growing segment of publishing and reading.  There has been limited competition to this point for the Kindle, but several new e-Readers are coming in 2010.  Along with the iPad, Sony is introducing its new Sony e-Reader.
Apple is likely going to more heavily market its digital new release movie downloads available through the iTunes store.  Jobs demonstrated the movie application in the iPad for the audience.
The Apple iPad Tablet is a $499 16G storage device with upgrade to 3G wireless capability for an additional $130.  This offers tremendous potential for efficient download massive storage of data.  You can also perform basic data processing functions with the iPad and it is designed with optimal "go green" recycling standards.  The iPad Tablet is set for release in late March.
Feature on the iPad Tablet by Neil of http://www.perfectlearner.com
Thanks in large part to the Amazon Kindle, which now comes in two screen sizes, and enthusiasm for the soon to be released Apple electronic book reader, online book downloads are beginning to take over the cultural tradition known as reading.
Amazon reported during the Christmas shopping season that for the first time ever it had achieved a greater volume of online book downloads sales for the Kindle than sales of published on a single day.  This is a pretty remarkable report and clearly shows that more and more readers are tuning into the ability to download books on demand to their portable device and read them.
It is not all that surprising that like every area of the consumer environment, consumers want it and they want it now.  As is the case with movies, shopping in general, fashion, and more, the internet is picking up steam.  Internet sales have grown dramatically in the last few years to help account for dwindling in-store sales for many retailers.  Amazon was the big winner by all accounts during the recent holiday shopping season.
Online book downloads give readers the opportunity to immediately acquire thousands of titles ranging from textbooks speed reading programs to traditional fiction, non-fiction, mysteries, and other popular book genres.  While the devices (Kindles range from $259 to just over $450) are pricy, the books are much less expensive to buy since there are no printing costs involved.  Some traditional publishers are obviously concerned about how this cultural direction for reading book downloads is going to affect them – and rightfully so.
It would not be surprising, especially as new book download devices are introduced, if 2010 marks the first year in which online book downloads outpace the sale of published books.
Article by Neil of http://www.perfectlearner.com